This is a reader-supported site. When you buy through links on this site, I may earn an affiliate commission. Thanks for your support! :)


African Animals Pattern Set.
Save $10 when you buy this three-pattern set. Use the patterns to create memorable gifts, or to bring a little bit of Africa to your own home
This post is a compilation of news and interesting papier mache artwork that I found while surfing this morning.
My online journey began with this  news item: Malta is celebrating Carlo Darmanin, Malta's most important papier-mache statue maker, with an exhibition of his work. Naturally, my reaction to this news was "What? Papier mache sculptors are important in Malta? I want to go there!"
The great sculptor died 100 years ago, but they still think papier mache is important. Lectures included in the celebration will include::
Renzo Gauci, a Maltese papier-mache statue maker who will be speaking about the art of papier-mache, and another by Victor Caruana, who has carried out in-depth research about papier-mache and artists who use this technique.
Darmanin created statues for use in churches and sanctuaries. I'm guessing, but it looks like the works were made with the traditional "chewed" paper, or papier mache pulp. If I happened to be in Malta I'd make sure to attend that lecture so I could know for sure.
And in case you're wondering, Malta is in the Mediterranean, due south of Sicily – and it looks like art of all kinds are important there.
I looked for photos of contemporary papier mache in Malta to see what they've been up to lately, but I was unsuccessful. However, I ran across these small statues of Keith Richards and Woody Allen (in Barcelona – Google isn't perfect). It's interesting to see papier mache used to create human figures in completely different styles – both sacred and profane. The profane ones are below (I'm not sure I could live with this likeness of Keith, but Woody is kind of cute: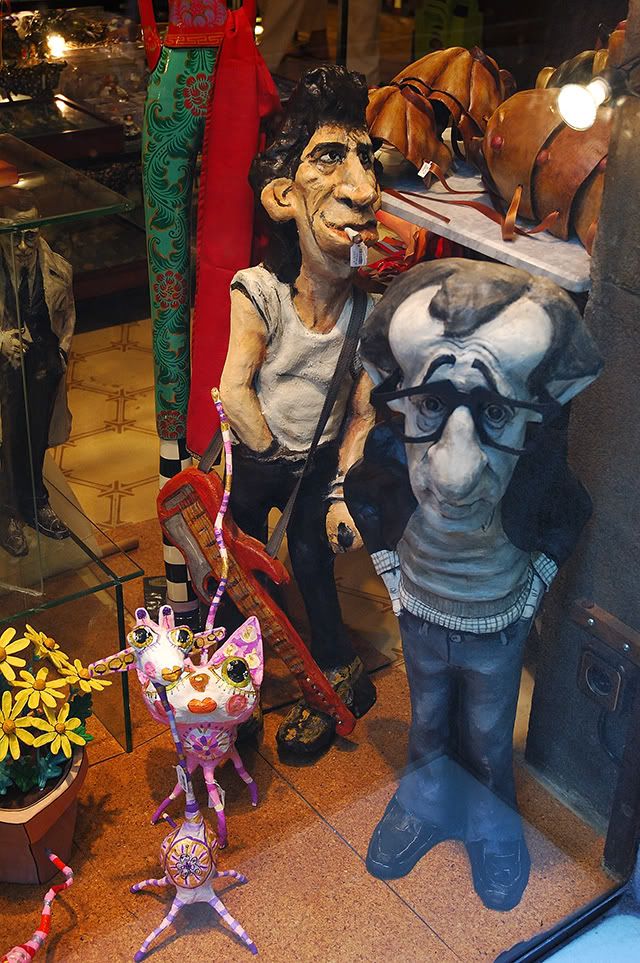 You can also find a photo of a bust of John Lennon, Dr. Gregory House (Hugh Laurie), Marlon Brando and a few other figures, all in paper mache, on the Barcelona Photoblog. The blogger does not give the name of the store where these works are found, or the artist's name. If you happen to know, please tell us.
Also be sure to check out the giant paper mache troll statue, made by Seattle artist Kim Graham. It looks like a knarly tree with a personality. According to the artist, this statue was made to look great when you get your photo taken in front of it. Her site doesn't say how the sculpture was made or if it's waterproof. Again, tell us if you know.