This is a reader-supported site. When you buy through links on this site, I may earn an affiliate commission. Thanks for your support! :)


African Animals Pattern Set.
Save $10 when you buy this three-pattern set. Use the patterns to create memorable gifts, or to bring a little bit of Africa to your own home
One of my readers just posted a fully detailed and illustrated blog post, telling how she used some of the techniques shown on this blog to create a fantastic "bronzed"  paper mache portrait of a friend's dog.
In fact, she created a sculpture that is so lovable you wouldn't be able to stop yourself from rubbing that his tummy.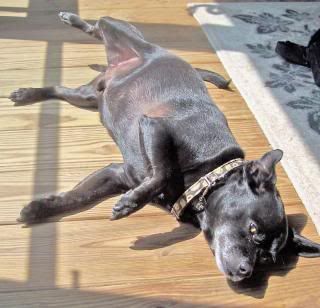 I'm going to be mean and not show you how the sculpture turned out  here my blog because I don't want you to miss any part of her wonderful post.
She used the photo of Buddy shown here as her model.
She also photographed the entire project from start to finish. She even tells us about problems she encountered and how she fixed them. It's an opportunity to see how a real artist takes on a new medium.
So head over to Xan's Art Blog now, and see how her sculpture turned out. And be sure to leave a comment on her post to tell her what you think.